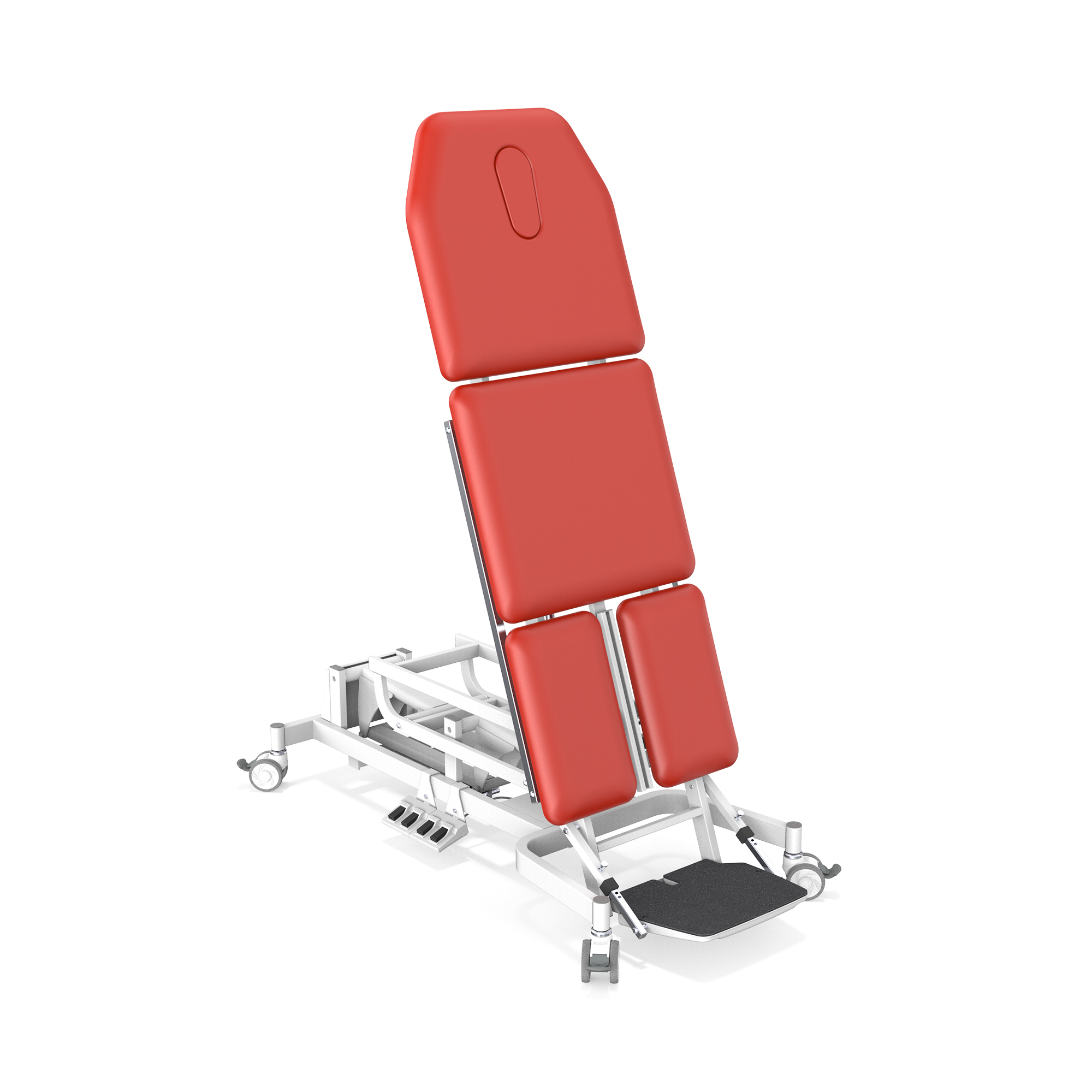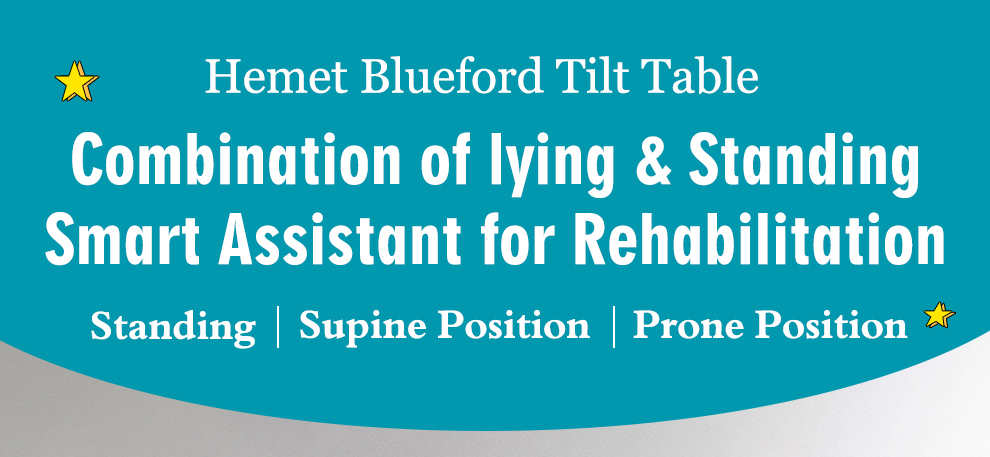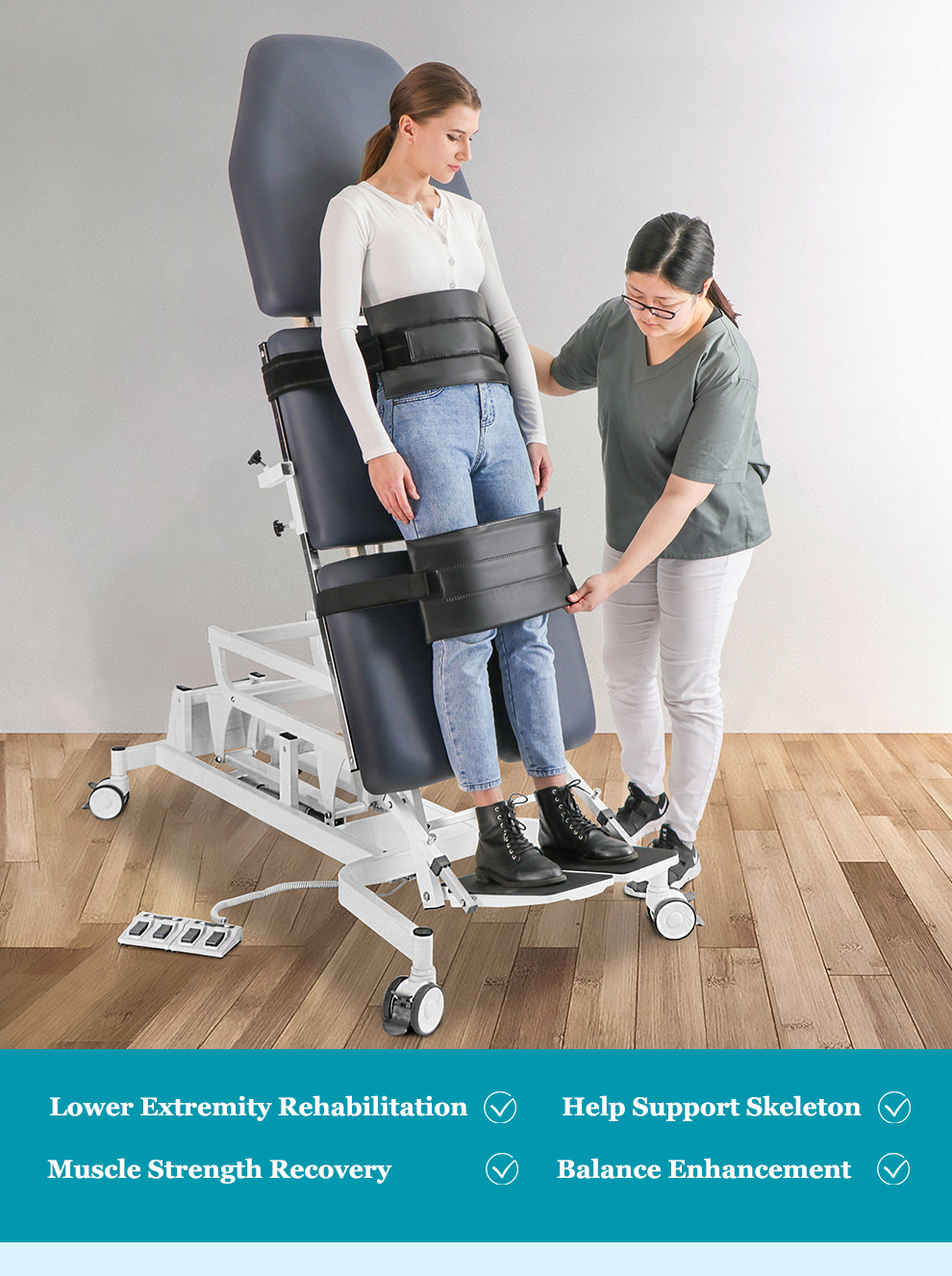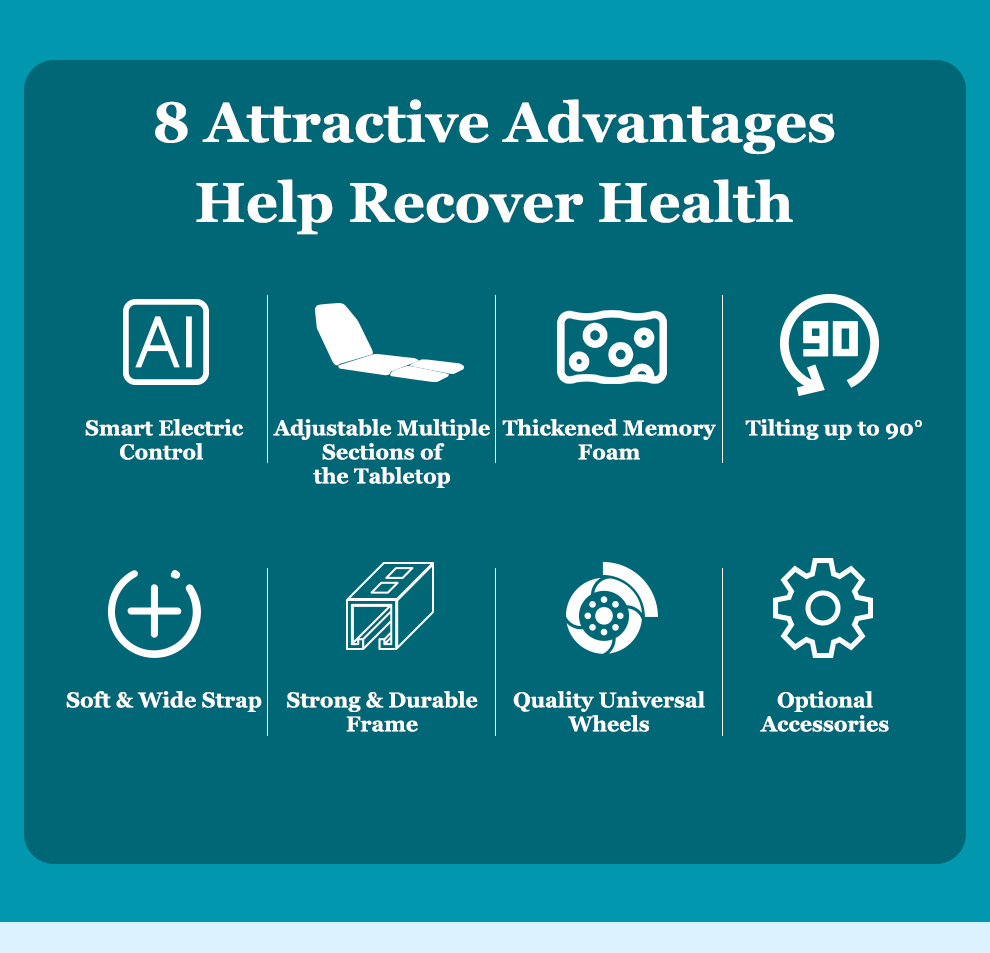 Hemet Blueford Tilt Table
Combination of lying & StandingSmart Assistant for Rehabilitation
Standing | Supine Position | Prone Position
Lower Extremity Rehabilitation Help Support Skeleton Muscle Strength Recovery Balance Enhancement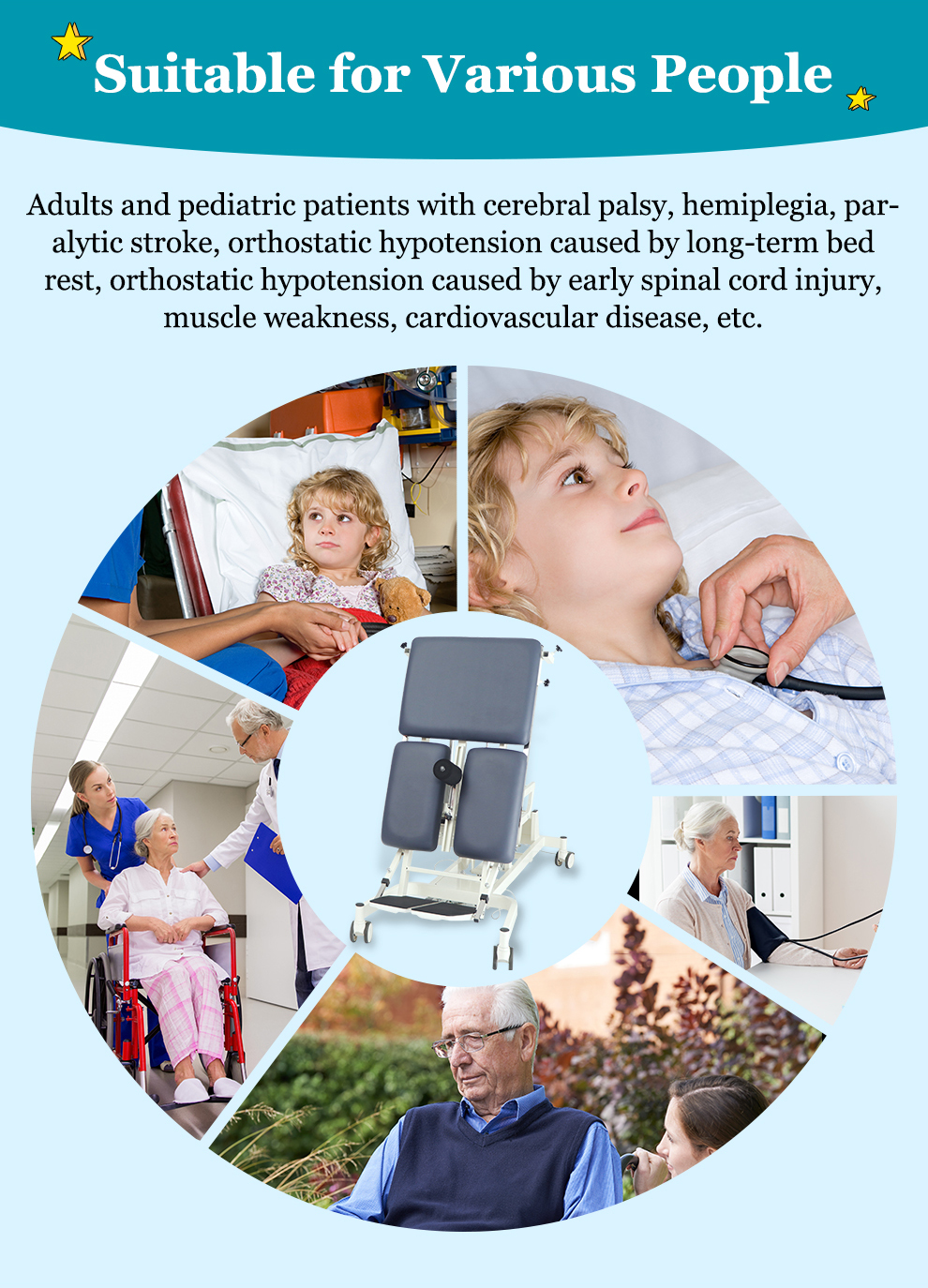 8 Attractive Advantages Help Recover Health
Smart Electric Control Adjustable Multiple Sections of the Table Top
Thickened Memory Foam Tilting up to 90° Soft & Wide Strap
Strong & Durable Frame Quality Universal Wheels Optional Accessories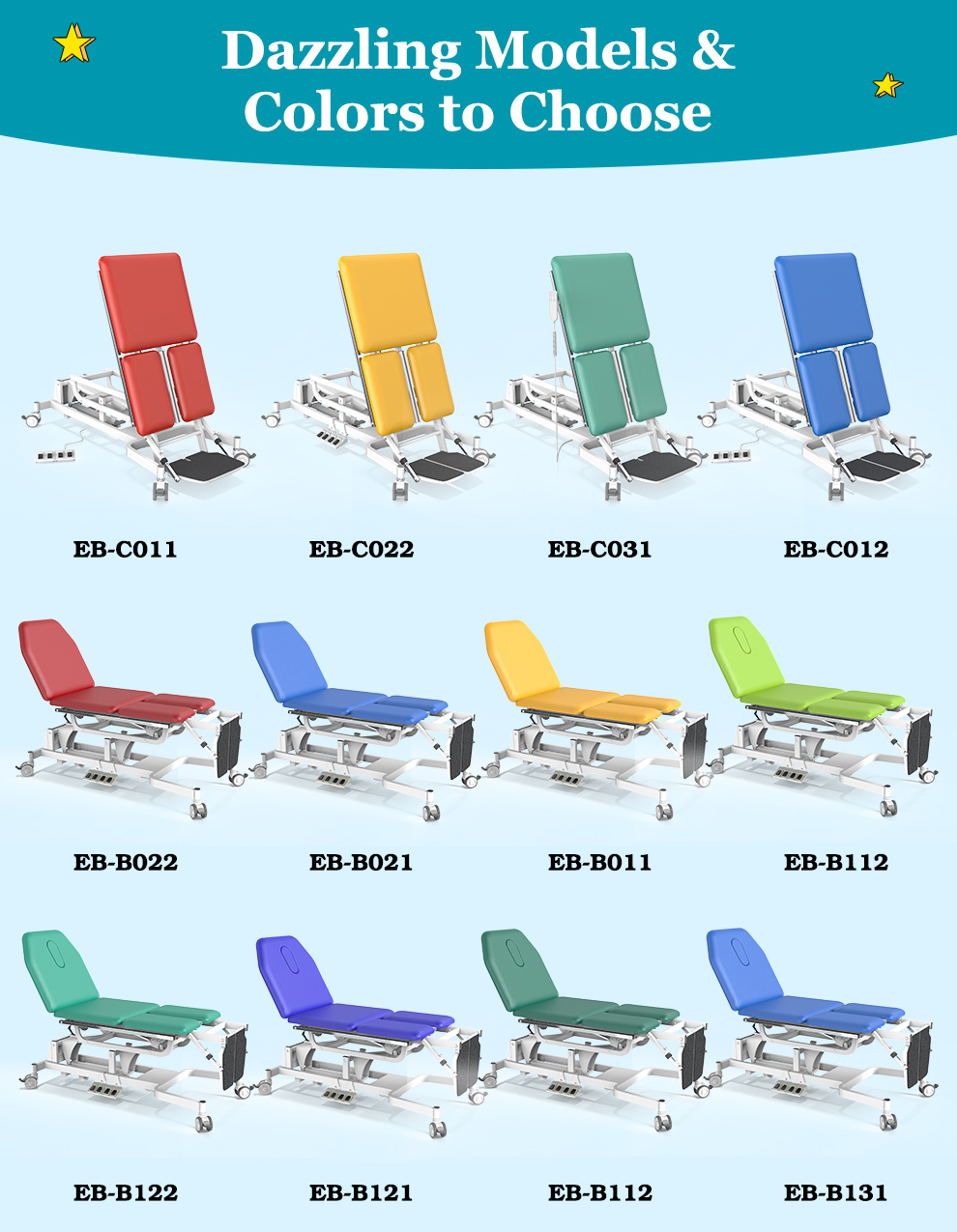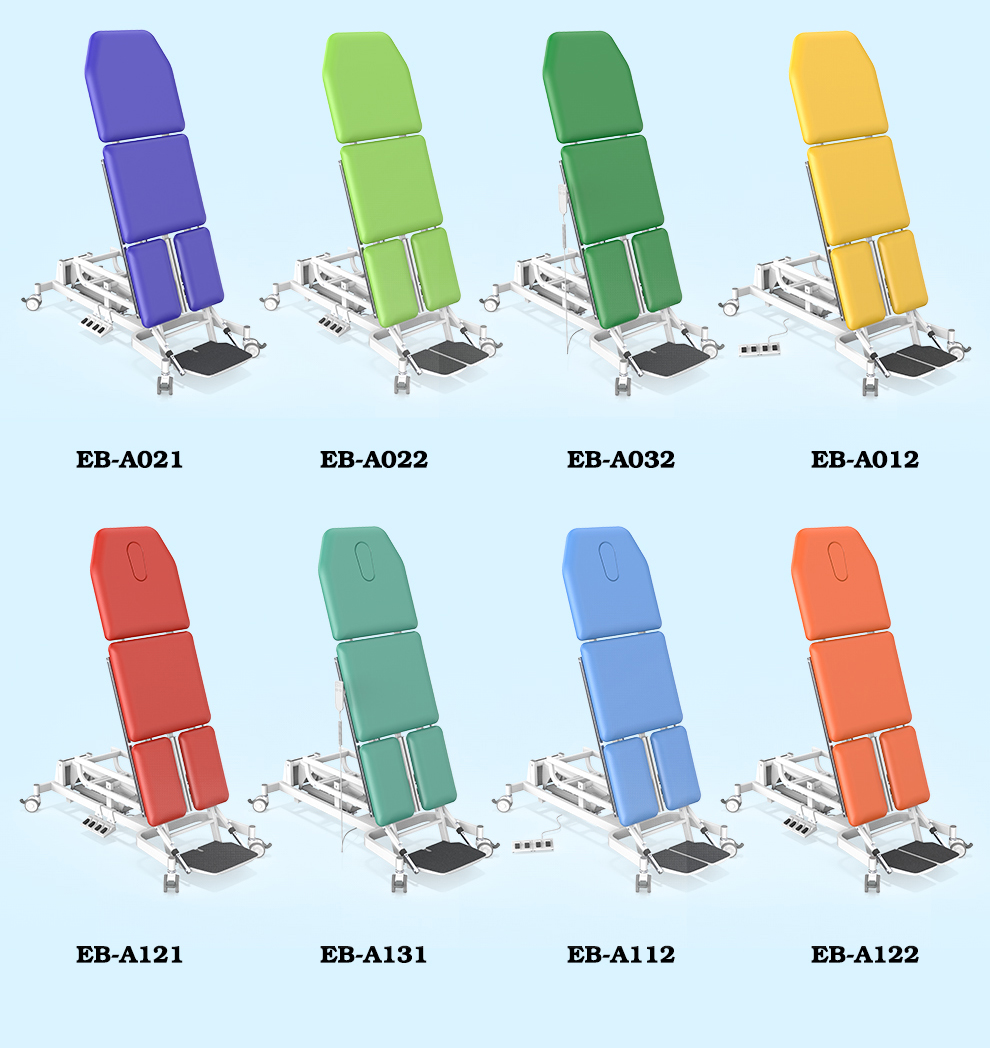 Optional Configuration
with or without breath hole+the hole filler
3-section with Flat/Tilting backrest,or 2-Section Table Top
Integrated footpedal/separatefoot pedal
Pneumatic tilting backrest & Removable backrest
Foot pedal control on floor/on frame/hand control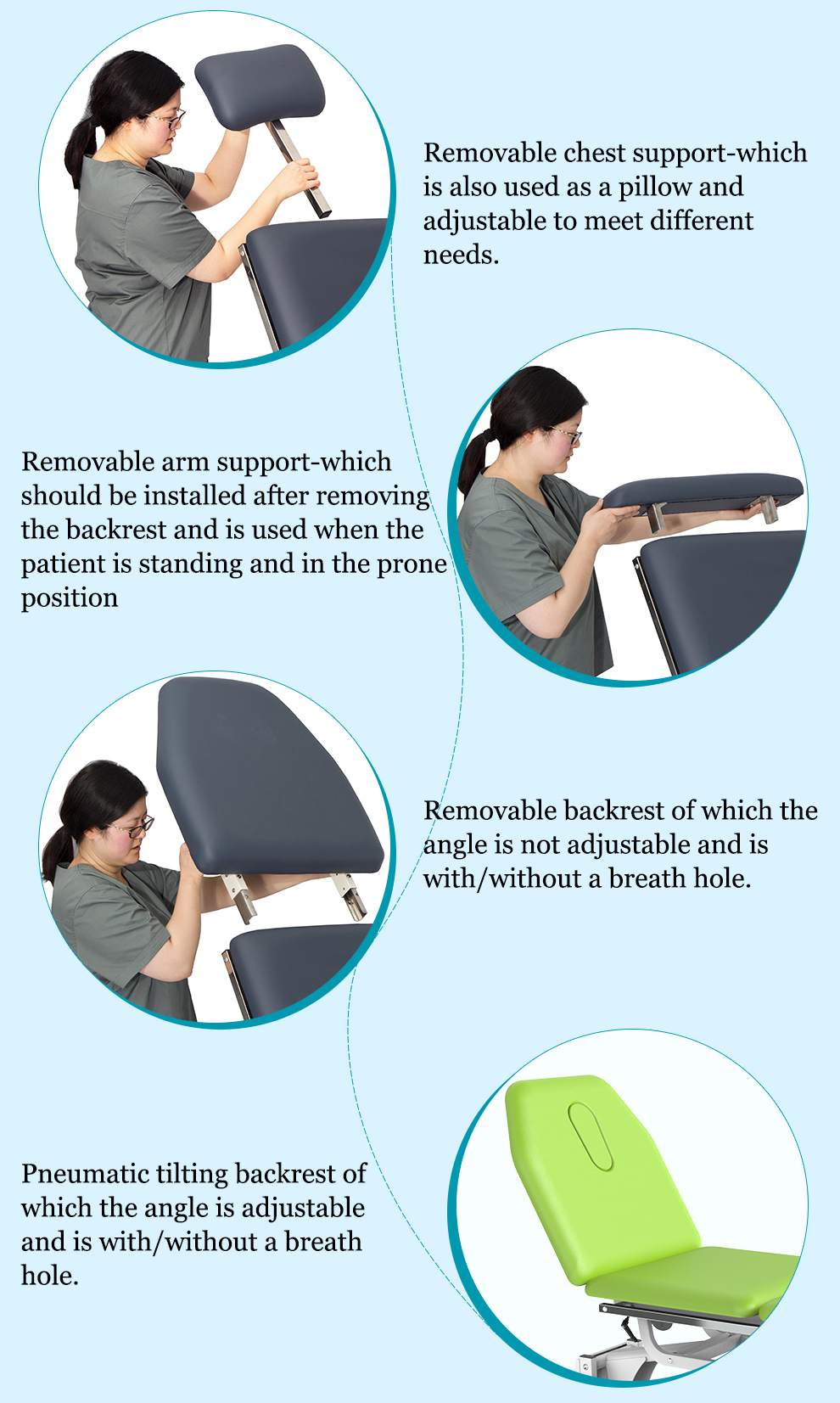 Removable chest support-whichis also used as a pillow and adjustable to meet differentneeds.
Removable arm support-which should be installed after removingthe backrest and is used when thepatient is standing and in the proneposition
Removable backrest of which theangle is not adjustable and iswith/without a breath hole.
Pneumatic tilting backrest of which the angle is adjustableand is with/without a breath hole.
3-section flat table top
3-section tilting table top
2-section table top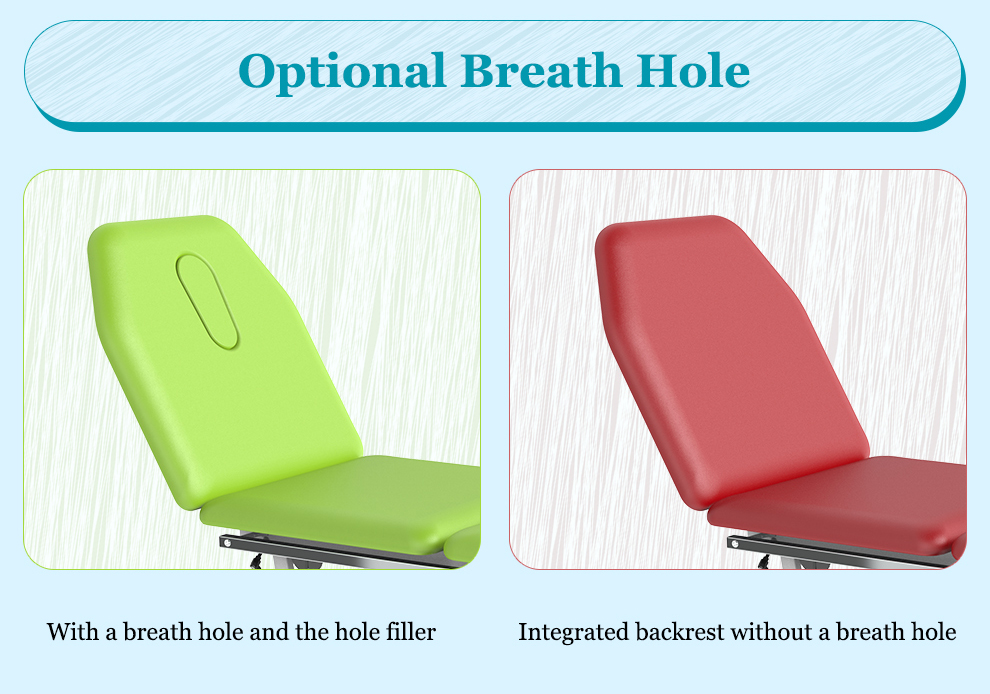 Optional Breath Hole
With a breath hole and the hole filler
Integrated backrest without a breath hole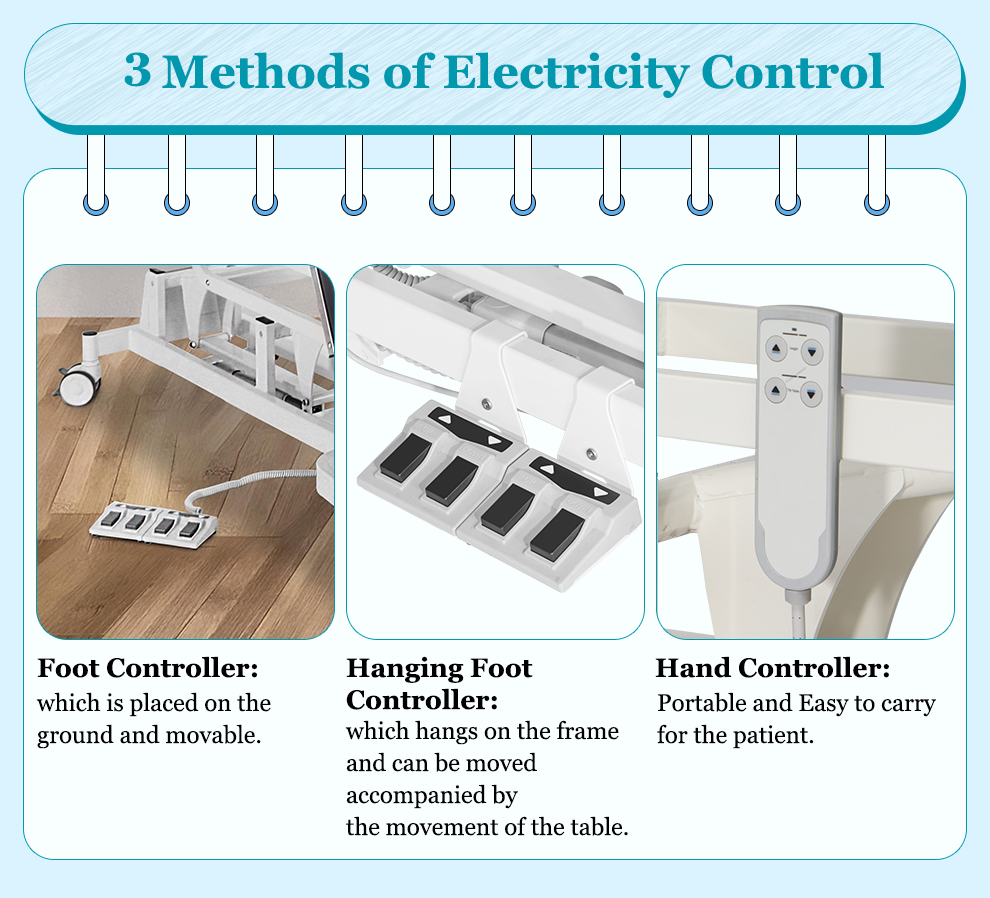 3 Methods of Electricity Control
Foot Controller: which is placed on the ground and movable.
Hanging Foot Controller: which hangs on the framefor the patient.and can be moved accompanied by the movement of the table.
Hand Controller: Portable and Easy to carry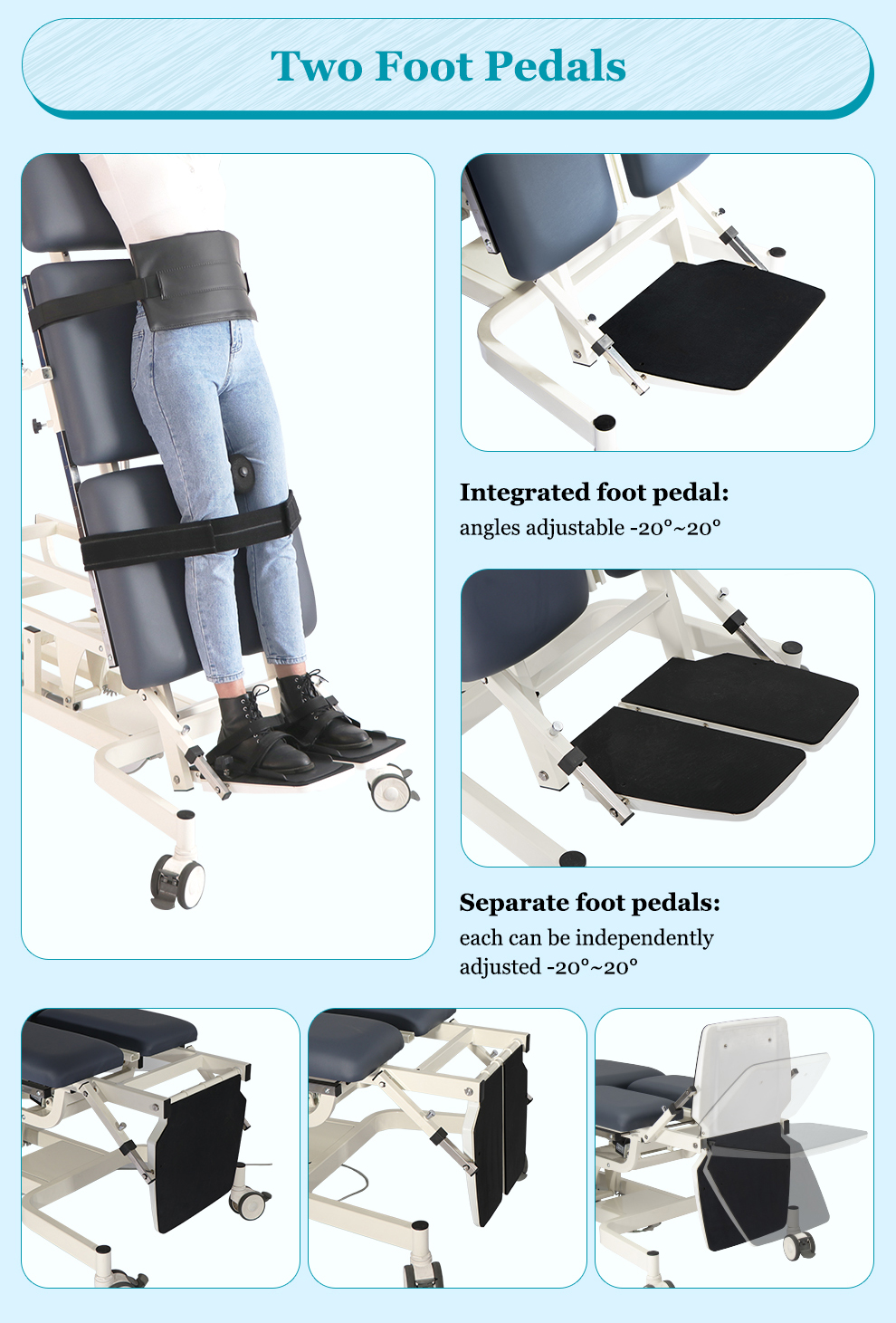 Two Foot Pedals
Integrated foot pedal:angles adjustable -2o°~20°
Separate foot pedals:each can be independentlyadjusted -20°~20°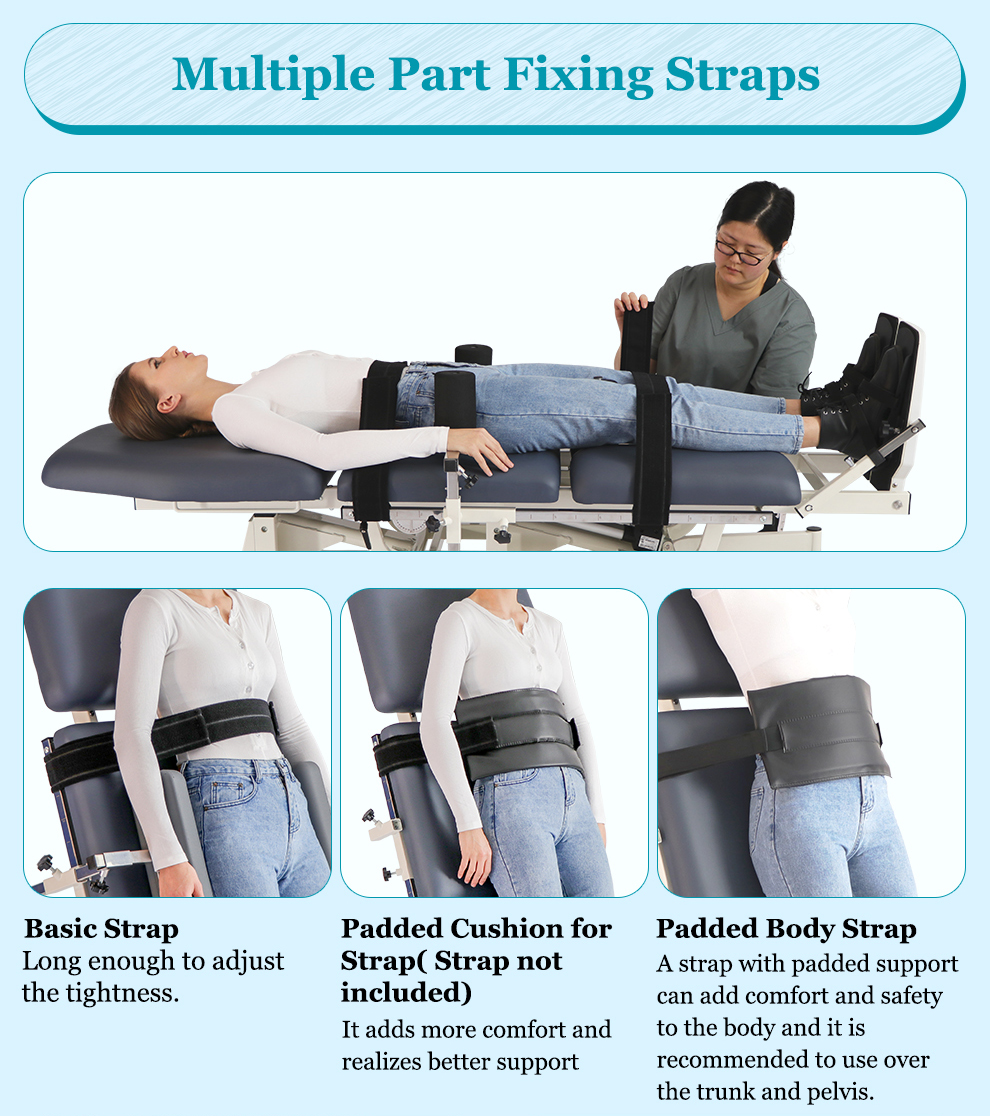 Multiple Part Fixing Straps
Basic Strap: Long enough to adjust the tightness.
Padded Cushion for Strap( Strap not included)
It adds more comfort and realizes better support
Padded Body Strap: A strap with padded support can add comfort and safety to the body
and it is recommended to use overthe trunk and pelvis.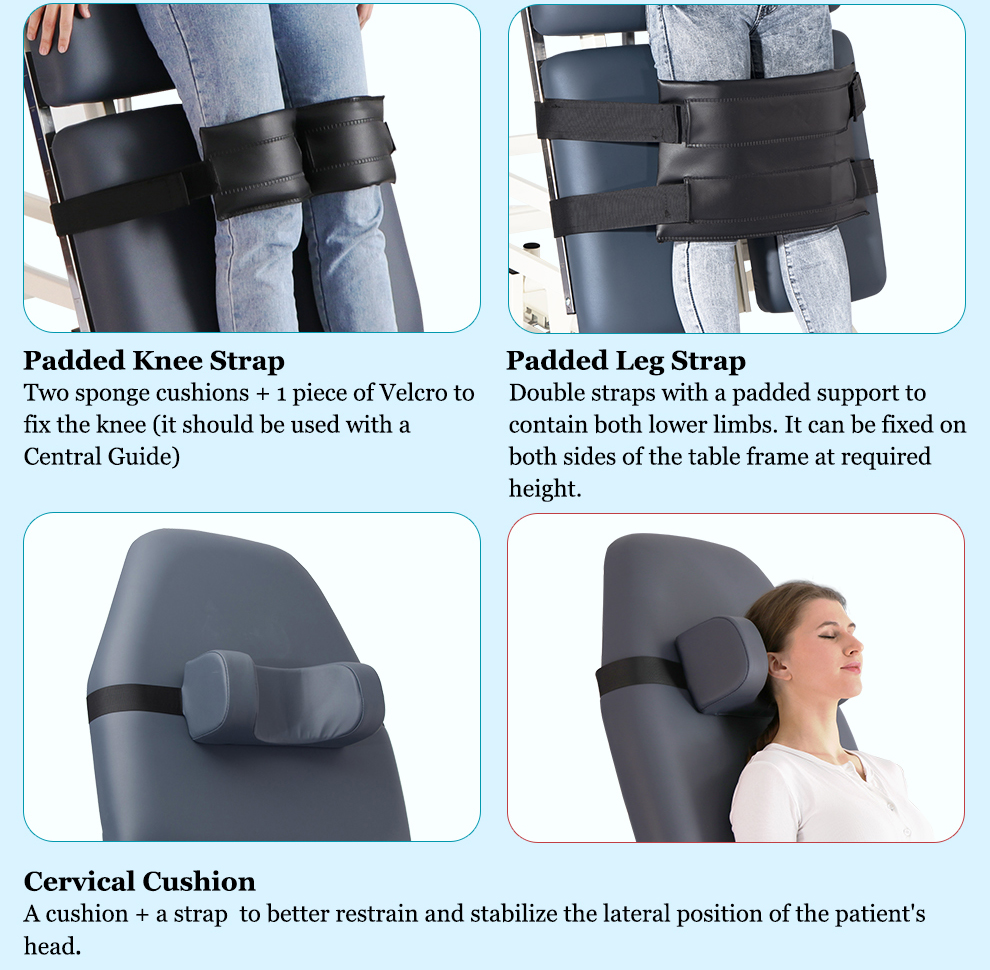 Padded Knee Strap: Two sponge cushions + 1 piece of Velcro to
fix the knee (it should be used with a Central Guide)
Padded Leg Strap: Double straps with a padded support to
contain both lower limbs. It can be fixed on both sides of the table frame at requiredheight.
Cervical Cushion: A cushion + a strap to better restrain and stabilize the lateral position of the patient's head.
Central Guide Kit
Blueford table itself does not contain the Central Guide Kit, user needs to purchase itseparately.
The Central Guide Kit can be fixed onto the central rail of Blueford table,which is located between the legs sections of the table.
It can be easily mounted withoutthe use of any tools.Using knee strap or abduction block, Central Guide Kit needs to beinstalled first.
Abduction Block
The abduction block can be installed on the center guide to keep the patient's legs apart.It's easy to install without using any tools.
The abduction block can slide along withcentral guide to adjust the height so as to be fixed at any desired position.
Lateral Support(It needs to be purchased separately)
The lateral general fixing devices can help to stabilize the patient.
If you want to use thedevices you need to install the general guide first.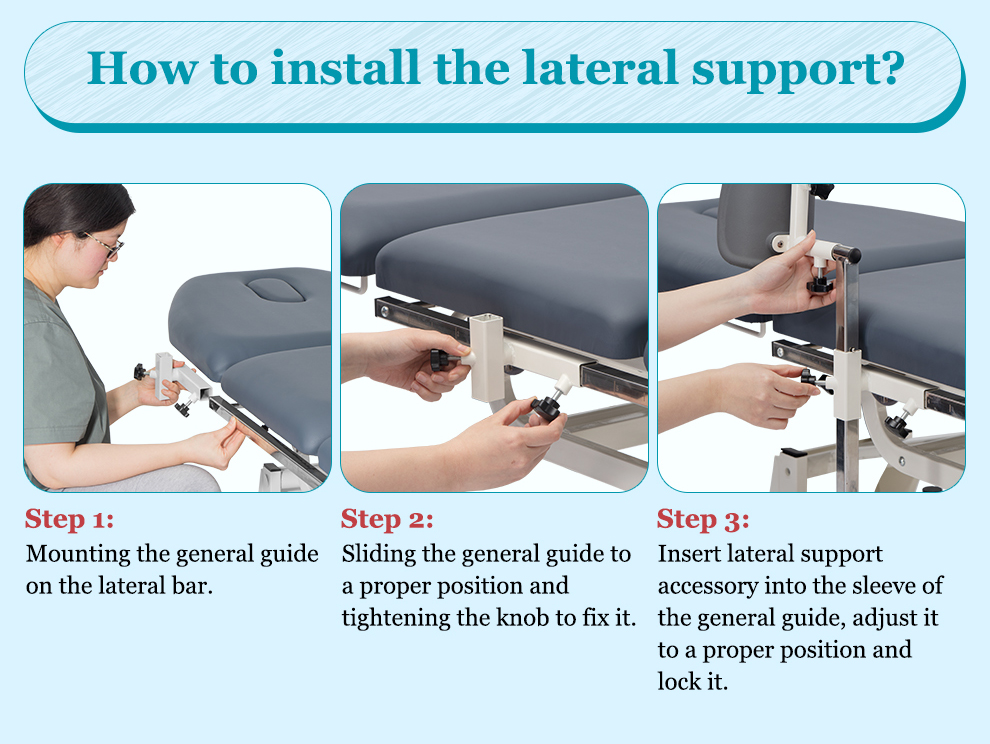 How to install the lateral support?
Step 1: Mounting the general guide on the lateral bar.
Sliding the general guide to a proper position and tightening the knob to fix it.
Insert lateral support accessory into the sleeve of the general guide, adjust it to a proper position andlock it.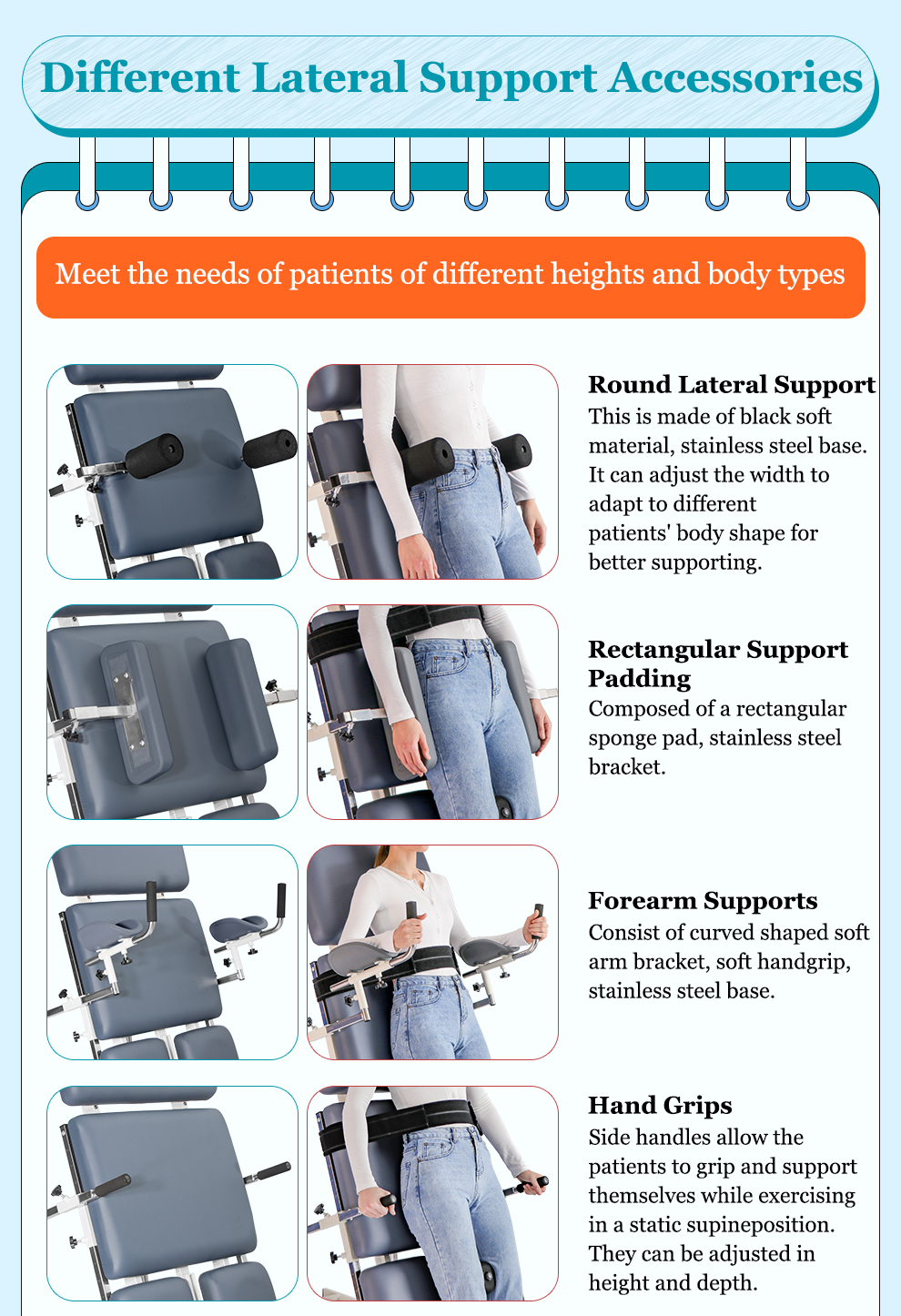 Different Lateral Support Accessories
Round Lateral SupportThis is made of black softmaterial,
stainless steel base.It can adjust the width toadapt to different
patients' body shape forbetter supporting.
Rectangular SupportPadding
Composed of a rectangularsponge pad, stainless steelbracket.
Forearm Supports
Consist of curved shaped softarm bracket, soft handgrip,stainless steel base.
Hand Grips
side handles allow the
patients to grip and supportthemselves while exercisingin a static supineposition.
They can be adjusted inheight and depth.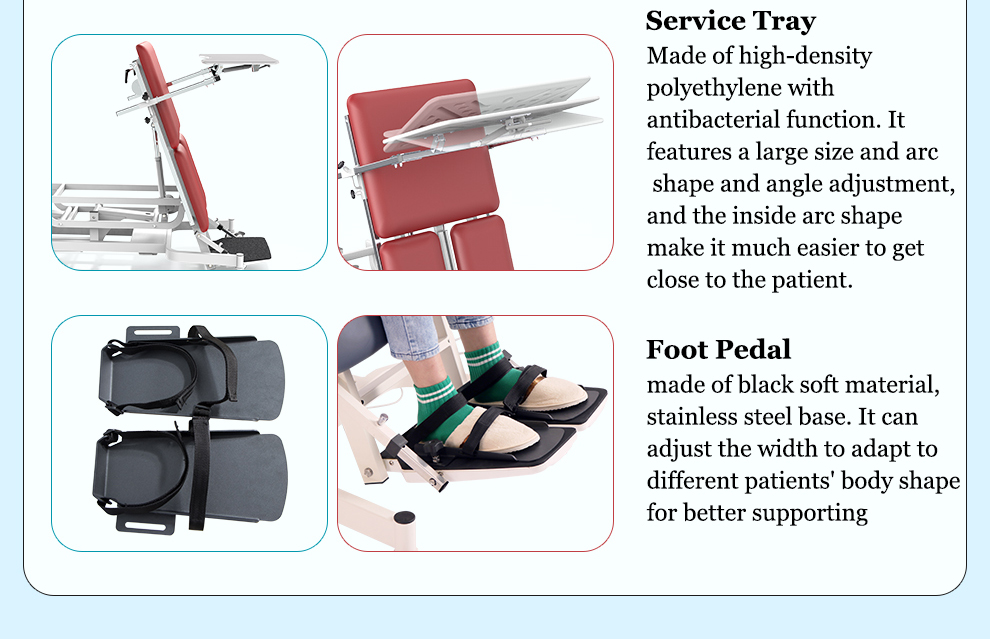 Service TrayMade of high-densitypolyethylene with
antibacterial function. Itfeatures a large size and arcshape and angle adjustment,
and the inside arc shapemake it much easier to getclose to the patient.
Foot Pedal
made of black soft material,stainless steel base. It canadjust the width to
adapt todifferent patients' body shapefor better supporting